Seeed Studio XIAO ESP32C3 featuring ESP32C3

Seeed Studio XIAO ESP32C3 featuring ESP32C3 carries a complete Wi-Fi system along with Bluetooth Low Energy function. With its exquisite design and WiFi+BT ability, it's perfect for various IoT controlling scenarios and complex carriable applications.

Key Features
Outstanding RF performance: Powerful ESP32-C3 SoC and U.FL antenna provided that supports WiFi/Bluetooth connection over 100m.
Thumb-size Design: 21 x 17.5mm overall dimension, portable and lightweight.
Low power consumption: Lowest as 44 μA (deep sleep mode), with 4 working modes available.
Onboard battery charge IC: Supports battery charging, great for various wearable scenarios and wireless IoT applications.
Ready for productization: Single-sided components design, easily integrated into other boards and Seeed provides Fusion Service for rapid production.
Description
Seeed Studio XIAO ESP32C3 has equipped a highly-integrated ESP32-C3 chip, built around a 32-bit RISC-V chip processor with a four-stage pipeline that operates at up to 160 MHz.

The board equips highly-integrated ESP32-C3 SoC. The chip has been installed with a complete 2.4GHz Wi-Fi subsystem which means it supports Station mode, SoftAP mode, SoftAP & Station mode, and promiscuous mode for multiple Wi-Fi applications. It works under an ultra-low power state, also supporting features of Bluetooth 5 and Bluetooth mesh. There are 400 KB SRAM & 4 MB Flash on the chip, allowing for more programming space, and bringing more possibilities to the IoT control scenarios.

Being a number to the Seeed Studio XIAO family, the board deservedly maintains the classic thumb-sized form-factor design and elegant productization of single-sided components mounting. Meanwhile, it has equipped with a battery charge chip and integrated circuit for enhancing its ability to carry. This board comes included with an external antenna to increase the signal strength for wireless applications. There are 11 digital I/O that can be used as PWM pins and 4 analog i/o that can be used as ADC pins. It supports UART, IIC, and SPI serial communication ports, also including IIS (Internet Information Services). Utilizing its small and exquisite hardware design and the powerful onboard chip, programming by Arduino, it will offer more ability to wearable and portable devices or other applications.

XIAO ESP32-C3 is perfectly is perfectly compatible with Arduino IDE, you can easily develop some small projects with the help of the large and comprehensive Arduino library. So get one and you will soon love it!

Attention
All the I/O pins are 3.3V, please do not input more than 3.3V, otherwise, the CPU may be damaged.



Pinout: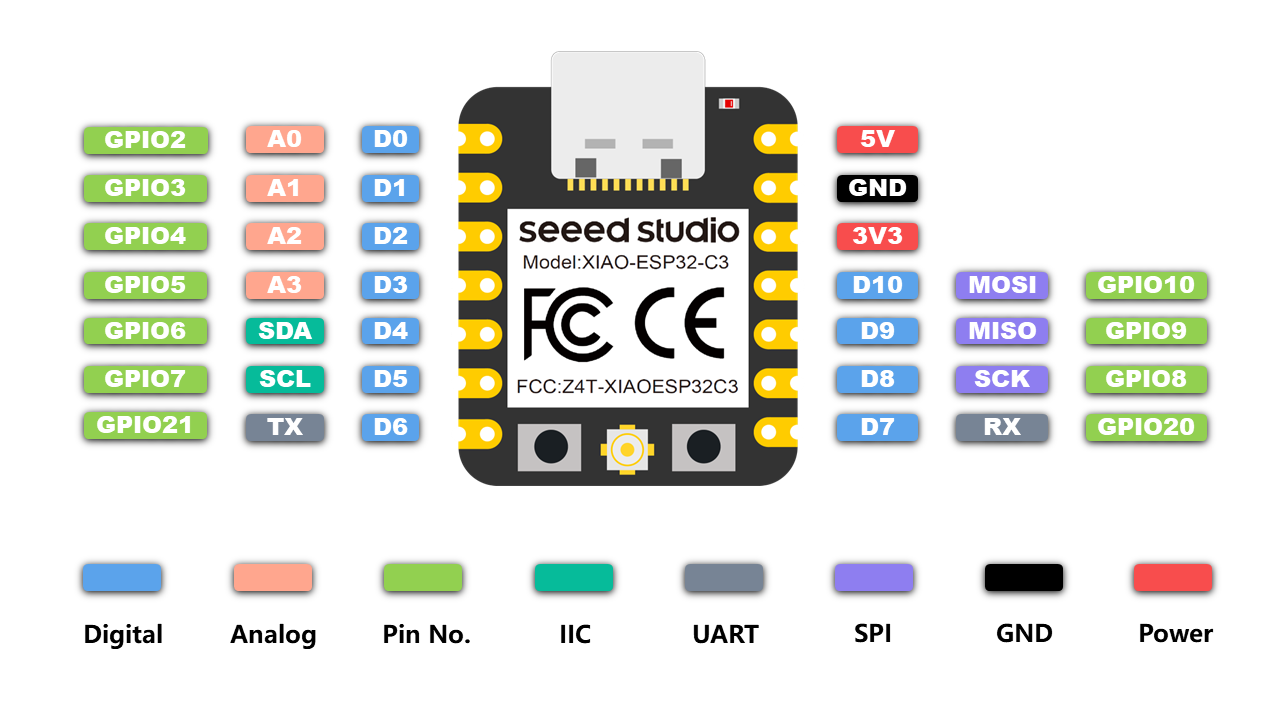 Part List:
Seeed Studio XIAO ESP32C3
x1
Antenna

x1


Documentation:
XIAO ESP32C3 Bottom pad positioning


This is the wiki page for this product, which will show you how to use the product, as well as details about the software and hardware.
ECCN/HTS
HSCODE: 8543709990
USHSCODE: 8471490000

FCC, CE


Cautions & Warnings:
Development boards do not necessarily have the same ESD protection as those afforded in an enclosed commercial product and are not necessarily EMC compliant either. Please ensure you are familiar with ESD handling precautions when working with development boards.
Please be aware of the type and quality of board you are purchasing. These boards may not be recommended for use in a commercial or industrial setting but are great for use in a developmental or electronics maker/hacking environment. Please note that due to the complexity of issues related to development work, these boards are not provided with any warranty or technical support and no warranty is provided as to the fit-for-purpose for customer applications. However, we will always try and help with customer support enquiries and welcome feedback
Technical
I/O voltage
3.3V
Seeed Studio XIAO ESP32C3 - tiny MCU board with Wi-Fi and BLE
Model No.: 4247
Availability: Out Of Stock
£5.15

Ex VAT: £4.29

---

4 or more £4.78
15 or more £4.74
Related Products