Seeed Studio XIAO nRF52840 - Arduino / CircuitPython- Bluetooth5.0 with Onboard Antenna

Seeed Studio XIAO Series are diminutive development boards, sharing a similar hardware structure, where the size is literally thumb-sized. The code name "XIAO" here represents its half feature "Tiny", and the other half will be "Puissant".

Seeed Studio XIAO nRF52840 is carrying wireless capability for the first time and it supports BLE 5.0, also able to operate with low power consumption. It will be your best microcontroller for Bluetooth applications.


Key Features
Versatile Microcontroller: Incorporate the Nordic nRF52840 chip with FPU, operating up to 64 MHz, mounted multiple development ports, supported by Arduino / CircuitPython
Wireless Capabilities: Implement Bluetooth 5.0, BLE functions with onboard antenna, also provide NFC connectivity
Elaborate Power Design: Provide ultra-low power consumption as 5 μA in deep sleep mode while supporting lithium battery charge management
Thumb-sized Design: 21 x 17.5mm, Seeed Studio XIAO series classic form-factor, suitable for wearable devices
Perfect for Production: Breadboard-friendly & SMD design, no components on the back
Description
Seeed Studio XIAO nRF52840 has an ultra-low power consumption of only 5 μA in the deep sleep mode, the embedded BQ25101 chip supports battery charge management which prolongs its use time. Moreover, Seeed Studio XIAO nRF52840 supports the USB Type-C interface which can supply power and download code. It also has rich On-chip Memory of 1 MB flash and 256 kB RAM, and an Onboard Memory of 2 MB QSPI flash. There are 11 digital i/o that can be used as PWM pins and 6 analog i/o that can be used as ADC pins. It supports UART, IIC, and SPI all three common serial ports. 1 Reset button, 1 3-in-one LED, 1 Charge LED, and 1 Bluetooth antenna are on board, allowing developers to debug their code very easily.
The powerful performance makes it perfect for machine learning applications, and the tiny size allows it to be used in wearable devices and Internet of Things projects, not just for prototypes but the mass production. Furthermore, Seeed Studio XIAO nRF52840 is friendly to the communities for its strong software compatibilities, which supports Arduino, Micropython, and CircuitPython. Except for the software, flexible I/O allows it to speak to almost any external device.
Starter Kit with free Course for all Electronics Neophytes and Enthusiasts
Seeed Studio has provided the Grove Starter Kit along with free and detailed courses for you quickly get started with microcontrollers and electronics, regarding all the Seeed Studio XIAO boards, promising you a great learning experience.
Not only programming but also electronics knowledge is not required, you will be taken step by step, from understanding the basic concepts to exercising the simple projects individually, finally being able to build complex, interesting, wearable projects on your own, owing a practical electronic product prototype from the course.

If you are interested in programming embedded machine learning, we have Codecraft visual programming that can help you quickly start your own TinyML project. And we have set up a #tinyml channel on our Discord server, please click to join for 24/7 making, sharing, discussing, and helping each other out.
We already have 5 XIAO products based on different solutions in the XIAO family, to help you better understand the differences and choose the most suitable part for your projects, please refer to the Seeed Studio XIAO Series Page.
Specification
To better support IoT and TinyML AI projects, there is an advanced version "Seeed Studio XIAO nRF52840 Sense" that carries an extra 6-axis IMU and a PDM microphone.
Item

Seeed Studio XIAO nRF52840

Seeed Studio XIAO nRF52840 Sense

Processor

Nordic nRF52840

The same as Seeed Studio XIAO nRF52840

ARM® Cortex®-M4 with FPU runs up to 64 MHz

Wireless

Bluetooth 5.0/NFC

The same as Seeed Studio XIAO nRF52840

On-chip Memory

1 MB flash and 256 kB RAM

The same as Seeed Studio XIAO nRF52840

Onboard Memory

2 MB QSPI flash

The same as Seeed Studio XIAO nRF52840

Interface

1xUART, 1xIIC, 1xSPI, 1xNFC, 1xSWD,

The same as Seeed Studio XIAO nRF52840

11xGPIO(PWM), 6xADC

Sensors

 

Onboard PDM digital microphone

Onboard 6-axis IMU

Dimensions

21 x 17.5mm

The same as Seeed Studio XIAO nRF52840

Power

Circuit operating voltage: 3.3V@200mA

The same as Seeed Studio XIAO nRF52840

Charging current: 50mA/100mA

Input voltage (VIN): 5V

Standby power consumption: <5μA
Application
Wearable devices
Wireless connect
Embedded machine learning projects
Perfect for mini Arduino projects
Tiny Machine Learning application


Pinout: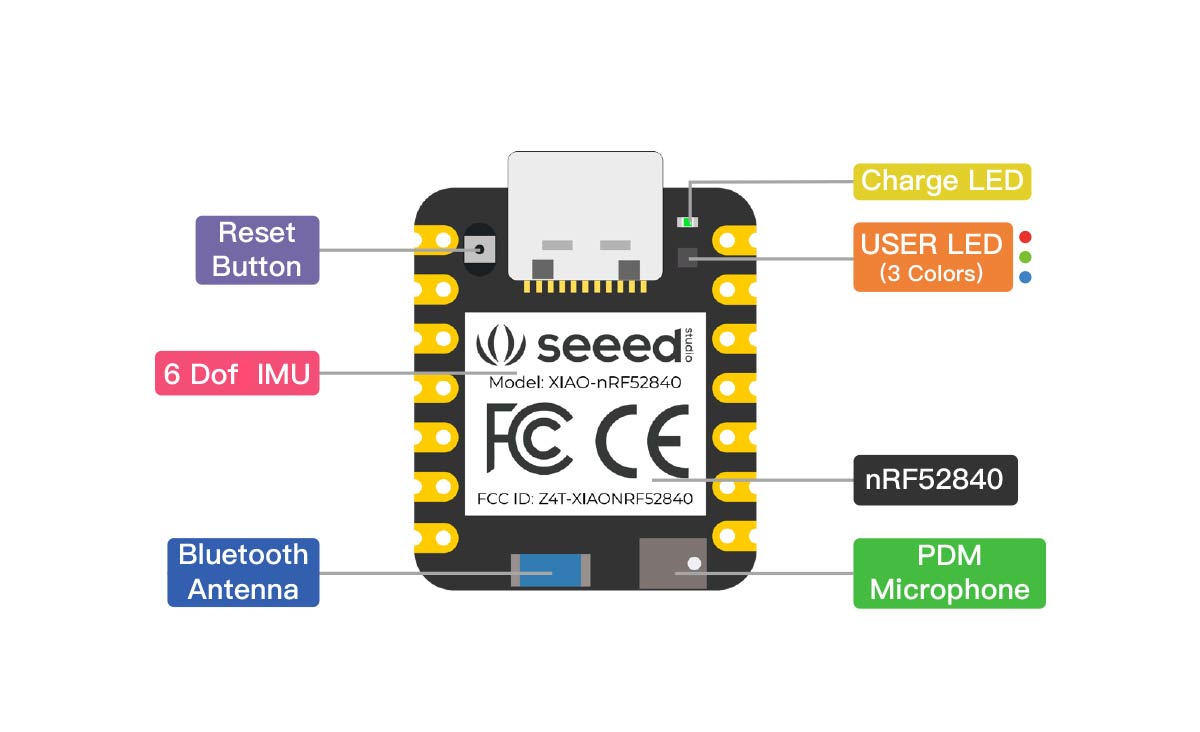 Note: IMU and PDM Mic are only fitted on "XIAO nRF52840 Sense" model only.

Part List:
Seeed Studio XIAO nRF52840 (with onboard antenna)
x1
Note: 0.1" male header not supplied.


Documentation:
LEARN AND DOCUMENTS
ECCN/HTS
HSCODE: 8543709990
USHSCODE: 8471490000
FCC, CE


Cautions & Warnings:
Development boards do not necessarily have the same ESD protection as those afforded in an enclosed commercial product and are not necessarily EMC compliant either. Please ensure you are familiar with ESD handling precautions when working with development boards.
Please be aware of the type and quality of board you are purchasing. These boards may not be recommended for use in a commercial or industrial setting but are great for use in a developmental or electronics maker/hacking environment. Please note that due to the complexity of issues related to development work, these boards are not provided with any warranty or technical support and no warranty is provided as to the fit-for-purpose for customer applications. However, we will always try and help with customer support enquiries and welcome feedback
Technical
I/O voltage
3.3V
Seeed Studio XIAO nRF52840 - Arduino / CircuitPython- Bluetooth5.0 with Onboard Antenna
Model No.: 4251
Availability: Out Of Stock
£11.87

Ex VAT: £9.89

---

2 or more £11.39
5 or more £10.67
Related Products