Bluetooth to Serial Adapter - Long Range with Internal Antenna
This Class 1 long range Bluetooth to Serial adapter with built-in internal antenna eliminates your conventional RS232 Serial cables. Provide an easy to use, invisible connection with superior freedom of movement.
This Bluetooth to Serial Adaptor allows any device with a standard 9 pin serial port for wireless communication.
You can communicate with another Bluetooth Serial adapter or other Bluetooth enabled device such as a desktop computer or Laptop.
Also some Tablets, PDA or mobile phones support Bluetooth to serial connections.
This device may be battery powered (not included) with supplied JST input cable.
Supports Bluetooth Serial Port Profile and Generic Access Profile.

No need of external host and software
Easy installation and use
Supports configuration of the local device
Easy maintenance
Supports up to 100 meters (line of sight)


Full Technical Specifications
Our Part Number: 2755
Brand: BTLink
Model: BTL-577
O/S Support:
Windows 10,
Windows 8, Windows 7, XP, ME, 98SE, Linux, MAC OS and Android.
Baud Rate: Supports 1.2/2.4/4.8/9.6/19.2/38.4/57.6/115.2/230.4
Coverage: Up to 100m (line of sight)
Connection: Point-to-point
RS232 Signals: TxD, RxD, GND, CTS, and RTS
RS-232 Interface: DB9 Female
Compliant:Bluetooth specification v1.2 / v2.0 +EDR
Frequency: 2.400 to 2.4835GHz
Hopping: 1,600/sec, 1MHz channel space
Modulation: GFSK 1Mbps, DQPSK 2Mbps, and 8 DPSK 3mBPS
Tx. Power: Max. 18dBm (Class 1)
Rx.: Sensitivity -83dBm typical
Antenna: Internal chip antenna
Antenna Gain: Max 1 to 2 dBi
Current Consumption: Max. 100mA
Compliant: CE, FCC & RoHS
Dimensions (L,W,H): 120mm x 35mm x 17mm
Package Contents
1 x Bluetooth Serial / RS232 adapter
1 x Antenna
1 x Male to Male converter (DB9 M to DB9 M) for DTE mode support
1 x USB cable for power supply
1 x BTLink Configuration Software (as download link below - functioning after registration)
Software
Registration key provided free after device purchase via email
Configuration Software v1.02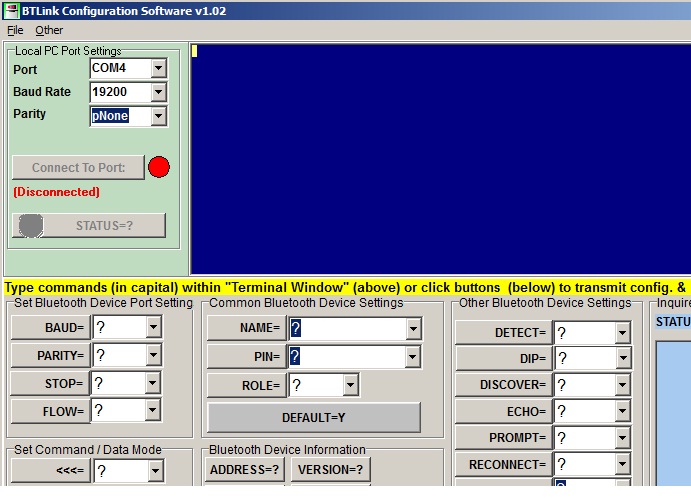 These devices are also known as:
Bluetooth Serial Converters
Bluetooth to RS232 Converters
RS232 to Bluetooth Adapter
Serial to Bluetooth
BTLink BTL-577
BTLink BTL577
BTLink Bluetooth to RS-232 Adapter
User Guide / Manual
BTLink Bluetooth to RS-232 Adapter User Manual V2.7
Related product enhancements:

Directly compatible with
DACIO 300
RS232 Input Ouput Board (item 4130) for wireless I/O applications.
Bluetooth device can be powered via pin 9 option on DACIO 300.
Directly compatible with
RS232 to TTL board item 4201
for long Bluetooth to TTL class 1 applications.
Bluetooth device can be powered via pin 9 option on RS232 to TTL 4201 boards.
Bluetooth to Serial Adapter - Long Range, Battery & USB Input, Int Antenna
Model No.: 2755
Availability: Out Of Stock
£38.34

Ex VAT: £31.95

---

4 or more £36.95
10 or more £34.98
20 or more £34.98
Related Products