RS232 to TTL Converter 3.3V IO Signal - Breadboarder Module

This is a very handy module for rapid prototyping projects requiring RS232/PC interface to robotics and microcontroller based projects using 3.3V TTL logic.
This module converts signals between RS232 voltage levels and TTL like voltage levels but at 3.3V.
Fully assembled with pins on underside for direct breadboarding facility out of the box! It is bi-directional, where TTL signals are converted to RS232 levels and RS232 levels are
converted to TTL levels.

Manufactured and tested in the UK by Tronisoft Limited.

** Made in UK. **
RoHS compliant - professional 2-layer, nickel/immersion gold (PCB).


Features:
High speed, replaceable advanced Intersil ICL3232 based device fitted with 15kV ESD protection.
Supports Data Transfer up to 250kbps or even higher in short bursts.
Works with PCs or Laptops.
Tested with microcontroller UARTs e.g. Microchip PIC16F877 and Atmel AVR (ATMEGA8515) devices.
Selectable +3.3V or +5V signals levels at the TTL level (single 3.3V or 5V supply required via header).
Ultra low current power status LED
Suitable for interface to Microchip PIC, Atmel AVR and other such micros.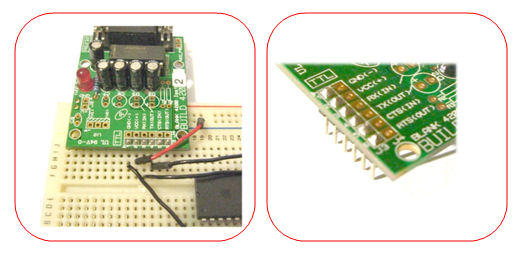 TTL Connections:

Pin 1: GND - this pin is the ground pin. This pin is usually connected to the 0V rail of the application hardware.

Pin 2: VCC(+) - this pin requires 3.3V (or 5V for 5V TTL logic) to be supplied to the board for power.

Pin 3: RX (input - from UART into PC) - this pin is usually connected to the TX output pin of the UART in the microcontroller. This is an input pin.

Pin 4: TX (output - from PC to UART) - this pin is usually connected to the RX pin of the UART in the microcontroller. This is an output pin and will be data from the RS232/PC side of the converter.

Pin 5: CTS (input - from UART into PC) - this pin is part of the RS232 "Hardware Flow Control" system. Normally this signal is used by the UART to flag to the PC when the UART is ready to receive data. However, because of the various interpretations of the RS232 "standard", the exact way this signal may be used will change from system to system.

Pin 6: RTS (output - from the PC to the UART) - this pin is part of the RS232 "Hardware Flow Control" system. Normally this signal is used by the PC to flag when the microcontroller can send data. However, because of the various interpretations of the RS232 "standard", the exact way this signal may be used will change from system to system.

Fully assembled and tested.

Contact us if you would like alternative build versions.
Free software and terminal program
Free software and terminal program

Related information:
RS232 To 3.3V TTL Converter User Guide
ASCII Serial Port Crib Sheets
MAX3232 - RS232 TTL IC Data sheet
Technical
I/O voltage
3.3V to 5V
RS232 to TTL Converter 3.3V IO Signal - Breadboarder
Model No.: 4205
Availability: Out Of Stock
Related Products