This USB 2.0 to RS422 / RS485 Serial Converter allows any USB equipped PC/Notebook to utilise the 9 Way serial RS422/RS485 port for use with serial devices such as CCTV / Video Systems, EPOS equipment, Terminal Devices, Industrial Equipment & including software that uses the RS422/RS485 Serial Standard or RS-422 / RS-485 Port.

Connect to any standard RS422 serial device via USB or any RS485 device!

Bidrectional which allows you to send and receive data simulataneously when using RS-422.

This FTDI based USB to RS422 / RS485 Serial Adapter Supports multiple terminals up to a maximum of 32 RS-485 devices provides an external plug & play RS422/RS485 serial connection with your computer via a spare USB port.


Just simply connect a RS422/RS485 compatible serial device to the USB2.0 to RS422/RS485 adapter with the supplied DB9 Pin to 6 Pin Header and then plug this into a spare USB port on a PC/Laptop.


Use two devices connected as shown below and our SimpleTerm software to do a loop back test and see your data being transmitted and received.

Uses the highly regarded FTDI FT232R IC for superb quality, performance, reliability and compatibility.
Provides RS422 / RS485 Serial Interface Port via any spare USB port
Fully compliant with USB specification 2.0 (Backward compatible to USB 1.1)
Provides a DB9 Male (9 Way) Serial RS485 port to connect your devices.
Supports data transfer rates from 300bps to up to 3Mbps (3Mbps at short bursts & short distances but longer lengths shall reduce performance)
Supports Remote Wake Up and Power Management Features
Supports Hot Swapping so you can quickly switch serial devices without shutting down your PC/Laptop
Features an Enhanced ESD Protection Specification. +/-15KV HBM. +/- 15KV IEC10000-4-2 Air Discharge. +/- 8KV IEC1000-4-2 Contact Dischareg.
Combined with a 9 Pin to 6 Pin Terminal Block Converter as standard to allow you to make RS422 or RS485 connections to your devices without purchasing any extra equipment.
Installed as a standard Windows COM port,
Easy Installation and the FTDI USB to RS422 / RS485 Adapter
For RS422 connections on 9W D Male connector:
Pin1: TX+
Pin2: TX-
PIN3: RX+
PIN4: RX-
PIN5: GND
PIN6: +5V (output from USB) - can be used to power your own devices but do not attempt to take more than 400mA from this port.


This device also comes with a 9WD to 6-pin terminal for easy wiring.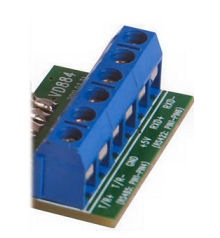 For RS485 connections use PIN 1 to PIN 4 Only
Screw Terminal Pinout:
Pin1: T/R+
Pin2: T/R-
PIN3: GND
PIN4: +5V (output from USB) - can be used to power your own devices but do not attempt to take more than 400mA from this port.

For RS422 connections use PIN 1 to PIN 6
Screw Terminal Pinout:
Pin1: T/R+
Pin2: T/R-
PIN3: GND
PIN4: +5V (output from USB) - can be used to power your own devices but do not attempt to take more than 400mA from this port.
PIN5: RXD+
PIN6: RXD-
Supports OS:
Windows 10, Windows 10 x64
Windows 8 (32 & 64 Bit) - NOT Windows RT
Windows Server 2008 R2
Windows 7, Windows 7 x64
Mac OS X (Inc Mountain Lion & Mavericks)
Android v3.2+ (No rooting required)
Windows Server 2008, Windows Server 2008 x64
Windows Vista, Windows Vista x64
Windows Server 2003, Windows Server 2003 x64
Windows XP, Windows XP x64
Windows 2000
Windows ME, Windows 98
Linux
Mac OS 9, Mac OS 8
Windows CE.NET (Version 4.2 and greater)
USB to RS422 Converter - FTDI - 9 Way
Model No.: 2422
Availability: In Stock
£11.39

Ex VAT: £9.49

---

5 or more £11.15
10 or more £10.14
20 or more £10.14