PL2303 USB To UART (TTL) Communication Module V2, USB-A Connector
This is a small handy module for rapid prototyping projects requiring RS232/PC interface to robotics and microcontroller based projects using 3.3V or 5V TTL logic. This module converts signals between RS232 voltage levels and TTL voltage levels.
Features:
Adopts PL2303GS new version device
Supports windows XP/7/8/10/11/...
3x VCCIO power mode via jumper setting:

VCCIO - 5V: 5V output
VCCIO - 3.3V: 3.3V output
open the jumper: powered from target board (1.8V/2.5V/3.3V/5V)

3x LED indicators: TXD, RXD, PWR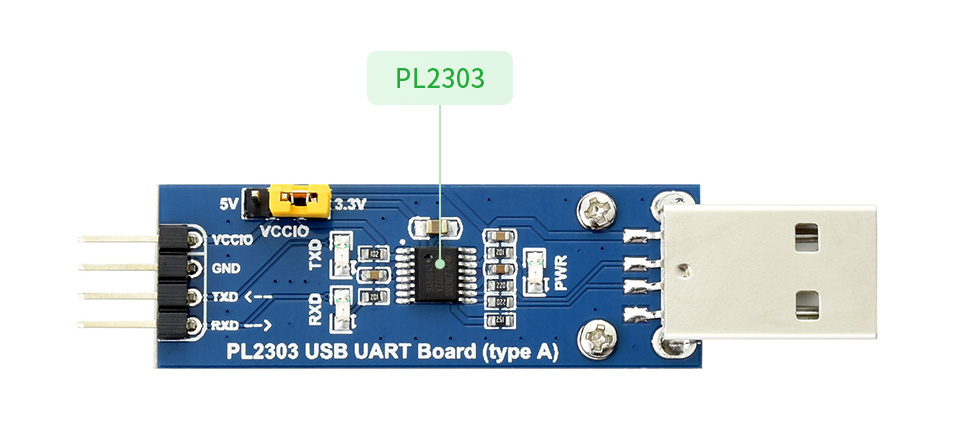 TTL Connections Pinout:
Pin definition: VCCIO, GND, TXD, RXD
VCCIO ↔ 3.3V or 5V output (the module is powered from USB, and the onboard jumper should be shorted to 3.3V or 5V)
GND ↔ GND
TXD ↔ MCU.RX (signal direction: MCU.RX << PL2303 << PC.TX)
RXD ↔ MCU.TX (signal direction: MCU.TX >> PL2303 >> PC.RX)

CAUTION: the module is compatible with TTL level ONLY, to avoiding any damage, please DON'T direct connect it to RS232 circuit.
Outline Dimensions





Supporting Software & Datasheets:

Free software and terminal program
Free software and terminal program




Resources & Services



Cautions & Warnings:
Development boards do not necessarily have the same ESD protection as those afforded in an enclosed commercial product and are not necessarily EMC compliant either. Please ensure you are familiar with ESD handling precautions when working with development boards.
Please be aware of the type and quality of board you are purchasing. These boards are not recommended for use in a commercial or industrial setting but are great for use in a developmental or electronics maker/hacking environment. Please note that due to the complexity of issues related to development work, these boards are not provided with any warranty or technical support and no warranty is provided as to the fit-for-purpose for customer applications. However, we will always try and help with customer support enquiries and welcome feedback.
Technical
I/O voltage
3.3V to 5V
PL2303 USB To UART (TTL) Communication Module V2, USB-A Connector, Waveshare
Model No.: 4252
Availability: In Stock
£4.79

Ex VAT: £3.99

---

2 or more £4.62
10 or more £4.32
50 or more £3.54
Related Products