Mini RS232 to TTL Converter MAX3232 CSE Board
This is a very small handy mini module for prototyping projects requiring RS232/PC interface to robotics
and microcontroller based projects using 3.3V to 5V TTL logic.
This module converts signals between RS232 voltage levels and TTL voltage levels.
It is bi-directional, where TTL signals are converted to RS232 levels and RS232 levels are
converted to TTL levels.
Features:
+3.3V or +5V signals levels at the TTL level.

Up to a maximum of 120Kbps Data Rate
Suitable for interface to Microchip PIC, Atmel AVR and other such micros.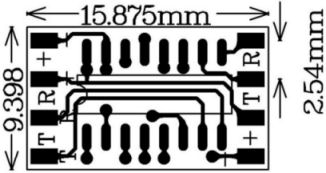 The MAX3232CSE is soldered directly on to the PCB.
* The above diagram shows T / R lettering but these are shown
as arrows within the new batch.

Related information:
ASCII Serial Port Crib Sheets
Technical
I/O voltage
3.3V to 5V
Mini RS232 TTL Converter Module

738
Model No.: 4203
Availability: In Stock
£1.56

Ex VAT: £1.30

---

3 or more £1.14
10 or more £0.84