MCP2515 CAN Bus Driver Module Board TJA1050 Receiver SPI For MCU/ARM/Arduino


Description
This is MCP2515 CAN Module TJA1050 Receiver will allow easy control of any CAN Bus device by SPI interface with your ARM/PIC or similar SPI enabled MCU, such as Arduino UNO and Compatible micro-controller projects.

MCP2515 CAN Bus Driver Module Board with TJA1050 Receiver SPI For MCU/ARM/Arduino
Feature:
1. Support CAN V2.0B technical specification, communication rate 1Mb/S.
2. A data field of 0-8 bytes.
3. Three frames - standard, extended and remote.
4. Module 5V DC power supply, SPI interface protocol control.
5. 120 ohm terminal resistance. Impedance matching to ensure driving ability, long-distance data transmission to prevent signal radiation.
6. Module size: 4.4x2.8cm/1.73x1.1in, the center spacing of the positioning screw holes is 23x38mm/0.91x1.5in.
7. Working current: typical value is 5mA, standby current is 1 microampere. Except for the power indicator.
8. Working temperature: industrial grade -40℃ to 85℃.
9. Supports SPI enabled MCUs/ARM/Arduino interface
10. On-board TJA1050 High-speed CAN transceiver. The TJA1050 is the interface between the Controller Area Network (CAN) protocol controller and the physical bus. The device provides differential transmit capability to the bus and differential receive capability to the CAN controller.
Pin Definitions (J4)
1. VCC 5V power input pin
2. GND power ground pin
3. CS SPI SLAVE select pin (Active Pin)
4. SO SPI master output slave input pin
5. SCLK SPI clock pin
6. INT MCP2515 interrupt pin
Interface

1. J1 120R resistor terminal selection
2. M1 CANH, CANL 2P terminal block output
3. J3 CANH, CANL pin output


Supporting Datasheets

MCP2515-Stand-Alone-CAN-Controller-with-SPI-20001801J.pdf
https://www.nxp.com/docs/en/data-sheet/TJA1050.pdf
Schematic of MCP2515 CAN Module with TJA1050 Receiver SPI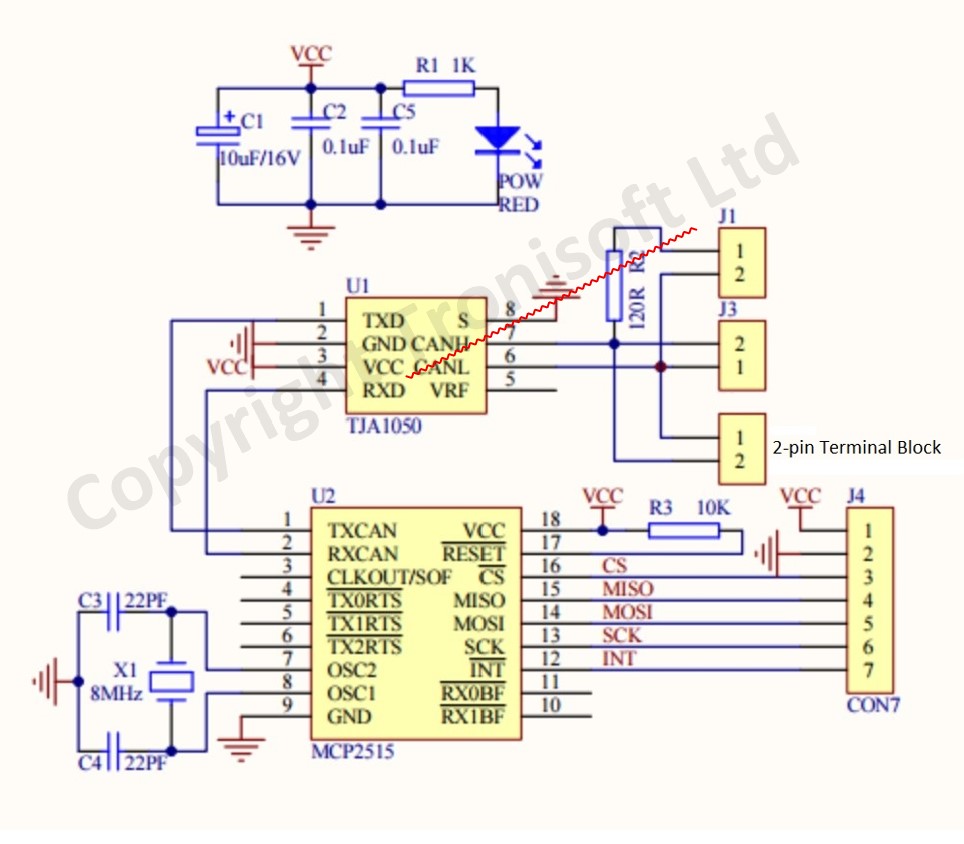 Included

1 x MCP2515 CAN BUS Driver Module with TJA1050 Receiver
Cautions & Warnings:
Development boards do not necessarily have the same ESD protection as those afforded in an enclosed commercial product and are not necessarily EMC compliant either. Please ensure you are familiar with ESD handling precautions when working with development boards.
Please be aware of the type and quality of board you are purchasing. These boards are not recommended for use in a commercial or industrial setting but are great for use in a developmental or electronics maker/hacking environment. Please note that due to the complexity of issues related to development work, these boards are not provided with any warranty or technical support and no warranty is provided as to the fit-for-purpose for customer applications. However, we will always try and help with customer support enquiries and welcome feedback.
Technical
I/O voltage
3.3V to 5V
MCP2515 CAN Bus Driver Module Board with TJA1050 Receiver SPI For MCU-ARM-Arduino
Model No.: 4280
Availability: In Stock
£4.19

Ex VAT: £3.49

---

5 or more £3.95
10 or more £3.83
Related Products