SimpleTerm Gold - Professional Edition 5 User / Machine License
RS232 Monitor / RS232 Terminal / COM Port Analyser / Serial Port Monitor

This is a 5 user license for SimpleTerm Gold - an advanced serial port monitor, simulation and RS232 data capture and analysis tool. Use to log, monitor, analyse or automate RS232 communication or simply use as an ASCII RS232 Terminal for basic serial port communication and RS232 device configuration.

It is a high performance 32-bit application designed to run on almost all PCs running Microsoft Windows 98, NT, 2000, 2003, XP, Vista and Windows 7, 10, 11.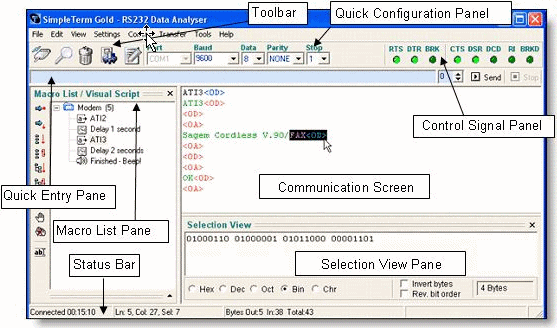 SimpleTerm Video Previews / Screenshots

SimpleTerm Gold - Serial Port Monitor is a thoroughly tested, mature, highly stable product used worldwide by professional engineers, technicians and software developers as a development aid and debugging tool for RS232 / serial port related projects. It's easy to use "simple" user interface also makes it a favourite amongst serial port novices and professionals alike. Don't take our word for it - try out the free evaluation versions!

SimpleTerm Gold - Serial Port Monitor will work with the serial / COM ports provided by your operating system. Physically, these ports will be RS232 SUB D9 serial port interfaces in most cases. However, it is also possible to use SimpleTerm for other communication standards such as RS485 and RS422, which have a different electrical design to RS232 but follow the RS232 communication mechanism. Also supported are Virtual COM ports presented by e.g. USB-Serial adaptors & Bluetooth™ Serial Port Profile devices.

SimpleTerm Gold is also known as an RS232 Analyzer as it provides superb data viewing and capture features for post analysis. It comes with popular CRC analysis as standard.

SimpleTerm Gold - Professional Edition can let you run unlimited Macro items.
Run unlimited instances on your machine (dependant on your PC/Laptop).
1 year of free minor upgrades and 50% off future major license versions.
Priority email support & technical support for our software.

Professional Edition is designed for Commercial use or Engineers who require a high quality product that can meet their needs and be deployed quickly for use as one of their essential tools in debugging, simulating and monitoring RS232 / RS485 communications.

The software can be installed on 5 machines which you would like licensed, licenses are not transferrable from the original five machines specified.

However SimpleTerm can run unlimited number of instances or can monitor unlimited devices simultaneously on the same Licensed Machines
depending on your system resources/limitations (i.e. PC/Laptop/Server).

Number one choice in professional RS232 monitoring software!
Some of our customers...

Free Download - 30 day v5.7 trial

What's New in 5.7

Download Manual

SimpleTerm Previews / Screenshots



Advanced Serial Port Monitor - SimpleTerm Gold - Pro 5 User
Model No.: 1131
Availability: In Stock